Hi. I'm Deborah Cooke.
If you've watched some or all of our free presentation (above) you'll know that two years ago my mother-in-law bought a home in a retirement village.
A retirement village home offered her a standard of living and facilities she could never afford if she were to fund it on her own.
However, with the costs shared amongst a group of retirees and payable when she LEFT the retirement village, it suddenly became affordable.
When she discussed her plans with us, we were excited for her. That is, until we started researching retirement villages on-line.
There were plenty of great reasons to move to a retirement village, but we also kept reading about:
Costly hidden fees
Nightmarishly complex contracts
Unhappy residents in the media
Obviously, this decision involved a significant financial outlay by my mother-in-law at a time in her life when she was no longer earning. This meant a financial mis-step could have devastating consequences.
We found the retirement village contracts were enormously complex with small print that even specialist lawyers seek expert advice on.
And we knew we weren't the only ones when we found this quote from the Consumer Action Law Centre.
Worrying isn't it?
Now, fortunately for us, my husband and I had several things going for us when we started researching this decision for my mother-in-law.
I had spent the 90's working for global accounting and consultancy firms, such as PriceWaterhouse Coopers and KPMG in London. I then returned to Australia, where I spent 5 years working in a global IT firm managing teams of technical writers and business analysts.
My husband is a qualified social worker and had spent the last 10 years working in a management, property and mediation role for a major trustee company.
With our network of contacts and extensive experience with complex problem solving and property related issues and legislation, combined with our IT and writing skills, we knew we should provide a solution to this problem for anybody, not just my mother-in-law.
The free video presentation (above) gives specific advice on how to avoid some of the common mistakes retirees make when buying into a retirement village.
Unfortunately, we gained all this knowledge AFTER my mother-in-law bought her retirement village home. Like many retirees she needed to make some decisions very quickly. 
The more retirees we spoke to, the more we realised they all had exactly the same problem . . . so, we designed a simple system, using videos just like the one above, to quickly teach retirees all they needed to know, in the comfort of their own homes, about how to get the best deal on any retirement village home.
We've called it The RetireEase System.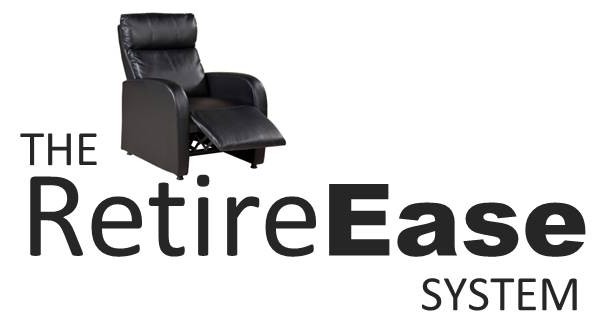 Doing your research and understanding your contract can offer a BIG payback.
It is possible to save yourself thousands of dollars by approaching the purchase of a retirement village home carefully and negotiating your retirement village contract.
This is your one and ONLY chance to get this right! 
Once you sign your contract you CANNOT change it!
The RetireEase System has four modules. I've outlined them for you below.
Module 1:

Is Retirement Village Living Right For You?
Module 2:

Retirement Village Contract Types
Module 3:

Retirement Village Fees and Charges
Module 4:

Due Diligence and Signing Contracts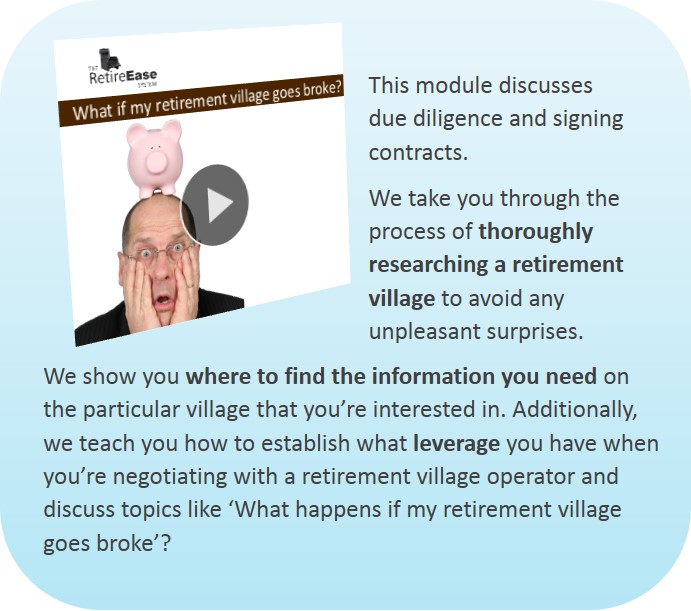 Our aim was to design The RetireEase System using smart technology so we could make it available for less than $100. And we succeeded!
The regular retail price will be just $89.95, a fraction of what you can save using this information and an incredible deal given the hours and hours you will save yourself if you go looking for, and read, all the legislation, consumer reports and small print required to acquire this knowledge.
However . . .
We've only recently completed The RetireEase System and we want your feedback.
So right now, I'm looking for a small, select group of retirees to work through our product, one or two videos per week, and provide us with their feedback.
You will get access to the full video training program for the massively discounted price of just $29.95 if you promise to send me a quick email, or spend a couple of minutes on the phone with me (your choice) after watching the videos.
 Now, whilst all this research has been going on, my mother-in-law has obviously moved into her retirement village.
Looking back on that process, we've also developed three additional tools that we know would have simplified the transition from her family home to her retirement village home.
So, for a limited time, I'm giving these away for free as well.
Bonus Product 1: 
Retirement Village Checklist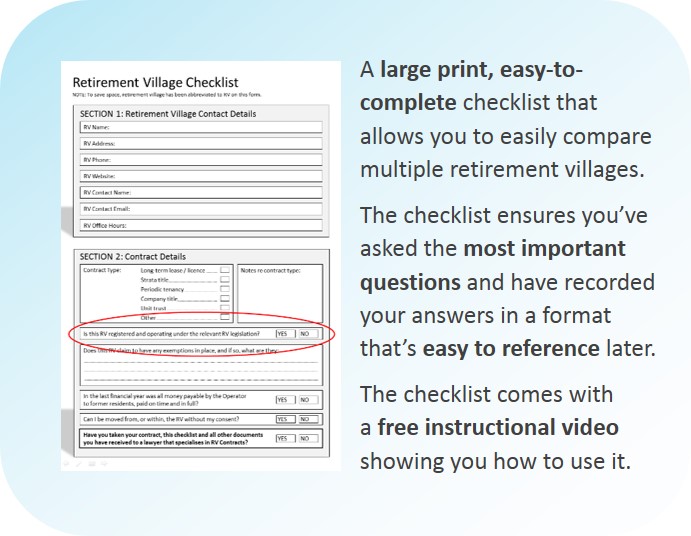 Bonus Product 2: 
Moving House Guide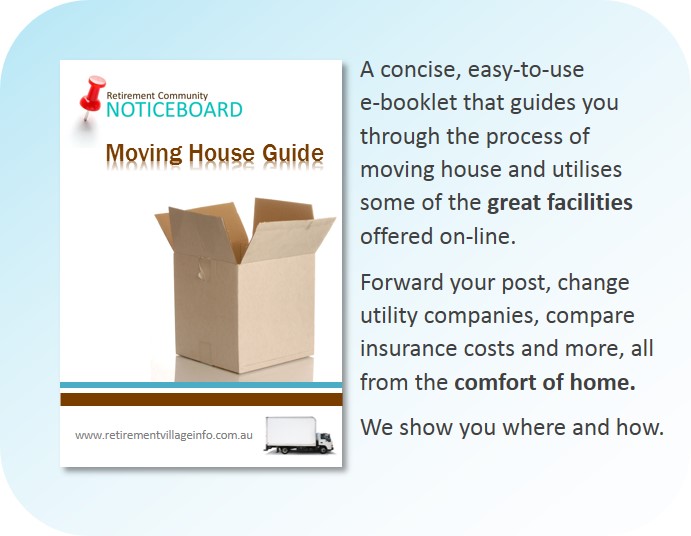 Bonus Product 3:
Founding Membership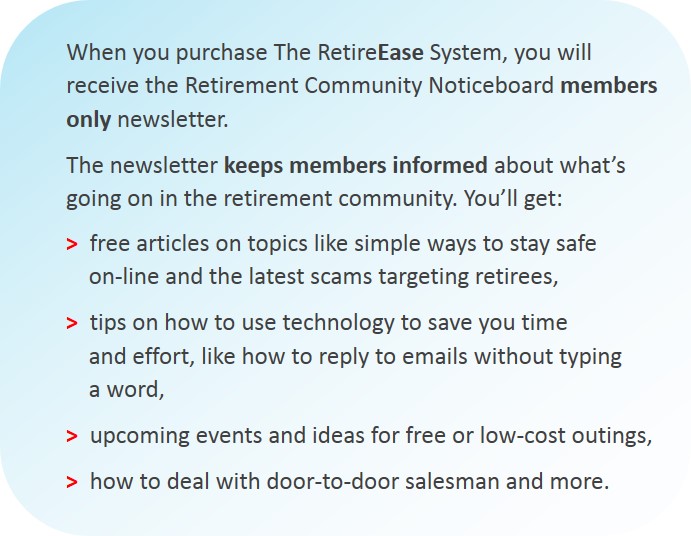 So let's quickly summarise what you are getting here: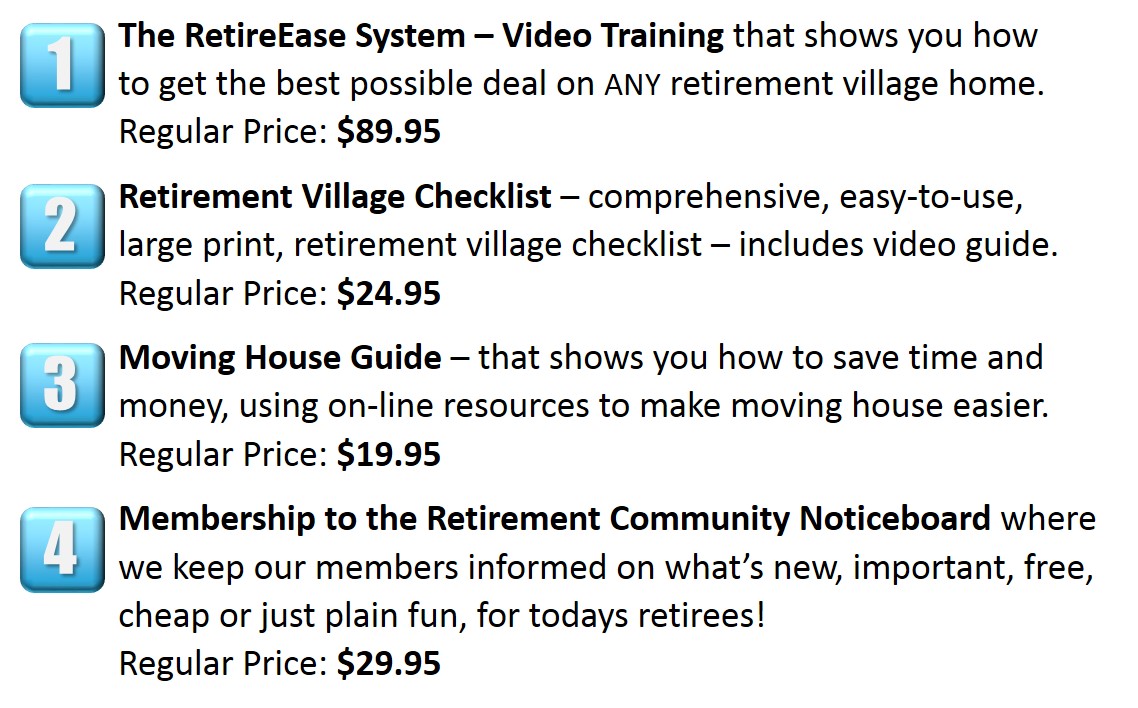 But remember, the real value of The RetireEase System is the thousands of dollars it could save you on your retirement village contract!
Now, obviously this offer won't last forever. In fact, it's only open to the first 10 people who buy The RetireEase System.
Once we've incorporated all their feedback into the course, we'll be selling The RetireEase System for the full $89.95.
So, to be one of those 10 people, click on the BUY NOW button below.
Now, I have one last thing I'd like to reassure you about.
Low-cost, on-line video training like this is the way of the future, but it's still pretty new to many of us, and it can be a little un-nerving to buy a course like this if it's your first time.
That's why I'm going to ensure there is absolutely NO RISK to you.
If you buy this product and don't believe you've been given good quality information that could save you thousands of dollars and years of stress and heartache then I will give you your money back.
That's a full 30 day, one hundred percent, no questions asked, refund!
So, if you're ready to make the most important step in buying a retirement village home, and the step that can save you thousands of dollars, click the BUY NOW button below and be one of the first retirees to benefit from The RetireEase System!